A multi-activity structure
Whether it's jumping in the air, freejumping or climbing, the jumping tower is a module for all these activities. We have developed this concept to allow you to expand your offer by proposing to your customers an autonomous experience.
How does it work?
The jumping tower is designed in a T shape to give it stability and good wind resistance. It has 2 floors. The first is 6 metres high and the second is 9 metres high. The three sides of the structure are used for multiple activities:

 two climbing walls with two holds each,


  two jumping areas assisted by Quick Jump,

 a facade with Freejump, on two heights, whose mattress measures 10 m x 10 m.

The jumping tower is equipped with two Quick Jumps for the jumps in the void and four Trublue for the routes with climbing holds.
The Center Parc in Port Zeeland has already been tempted by the jump tower! Why not you?

Click here to watch our video presentation.
Who is the jumping tower for?
Campsites, municipalities, adventure parks... The jumping tower can be suitable for many infrastructures that want to attract a family audience. Once installed, it will delight children as well as adults. With its wide range of activities, it allows all levels to have fun and share a good time!
And what about safety?
The jumping tower is completely safe and can be accessed by all ages. The presence of monitors is necessary to supervise the workshops, guide and advise users and ensure that everything runs smoothly. It is designed with padlocked gates to prevent access at night or during the day at your convenience.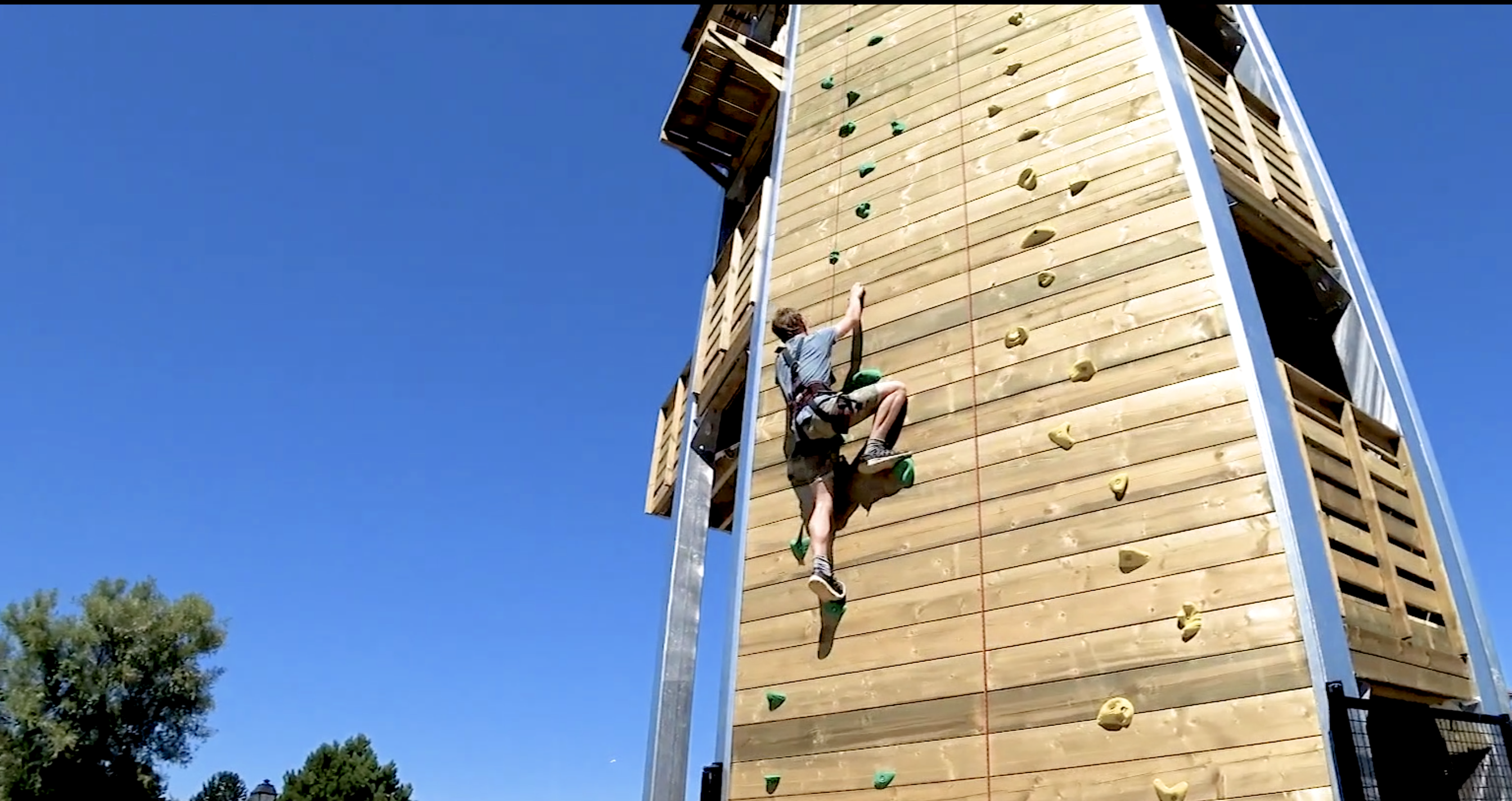 What are the stages of the project?
A study is necessary before the project to check its feasibility. We must determine certain points:
The exact nature of the soil to determine the type of foundations that can be used,

The influence of the wind on the structure,

The orientation of the tower on the ground.
The stability study will then determine the size of the columns and the type of foundation required. We will then be able to submit our proposal and start the construction together.
... and how long does it last?
A structure of this type can be built within 6 to 8 weeks.
Jumping tower at Center Parcs Port Zeeland (Netherlands).